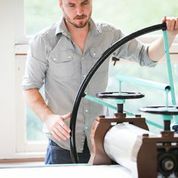 Chris Harmon graduated with a Bachelors degree in Drawing, Painting, and Printmaking from Portland State University in 2008. While in school, he completed an apprenticeship program with Mahaffey Fine Art, and studied etching at Il Bisonte in Florence Italy.
Chris completed the Emerging Printmakers Residency Program offered by Print Arts Northwest in 2012. In 2013 he was awarded a grant by the Regional Arts and Culture Council to study photo-etching at the C.R.A.T.E. in Oakland, CA. His work has been included in exhibits in Portland, Oakland, Seattle, and Japan.
Working at McClain's Printmaking supplies, Chris gained knowledge of relief printmaking in both western and eastern traditions. By offering block printing classes at Multnomah Arts Center, he aims to empower adults and children through a greater understanding of printmaking.
Some of Chris' works: