Multnomah Arts Center Gallery
Now showing in the gallery:
Group Mixed Media Show Celebrating Portland's African Diaspora
Curated by Bobby Fouther
October 4 – October 29, 2019
Reception: Friday, October 4, 7-9pm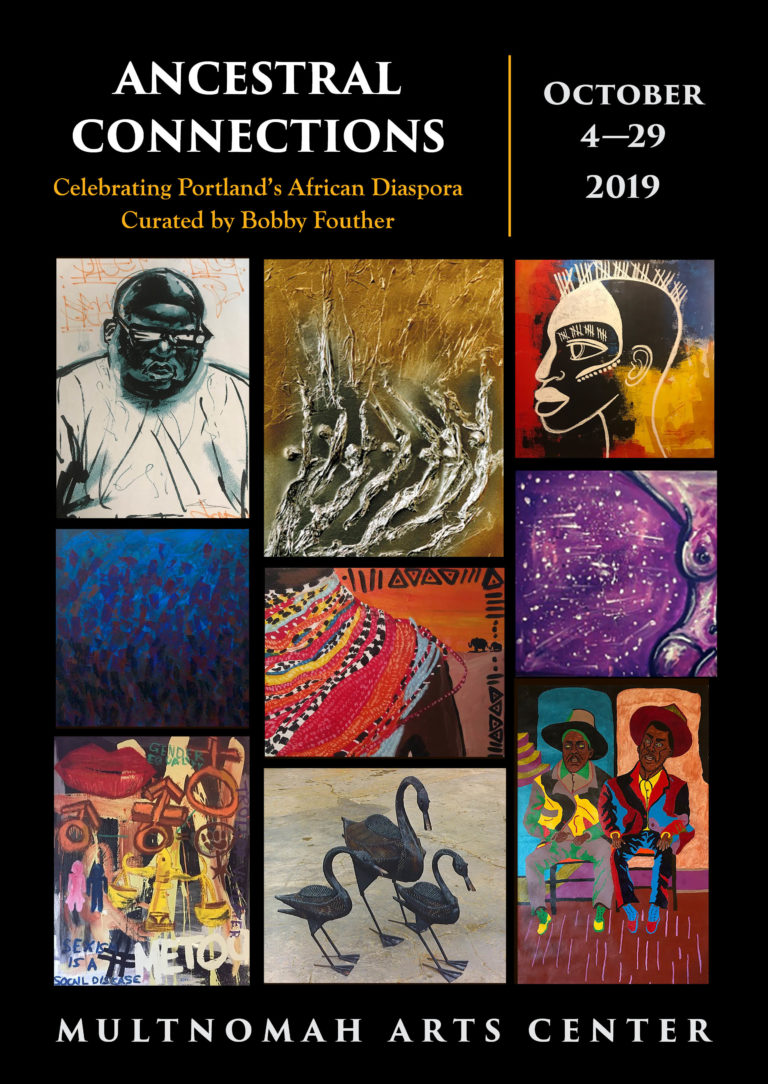 Images: Top to Bottom & Left to Right: Eldon Jones III, Ruth Gourdine, Chris McMurry, Bobby Fouther, Jamaali Roberts, Alice Price, Hobbs Waters, Mufu Ahmed, Sean Patterson, Not Pictured: Blacque Butterfly (Spoken Word)
Curator's Statement:
When I first thought about creating this exhibit, I wanted to show a breath of artwork from diaspora. As I turned it to my artistic family, I began to realize that we functioned much like a Village. And so I chose to treat each member as an artistic force for the whole. Through this lens I was able to cross genders, ages, styles, aesthetics, and content. In the essence, this has created the Village voice that you will experience in viewing and hearing Ancestral Connections.
While the artists in this exhibit were born and raised in different locations, different households, on different continents, you will see a theme of the need to take one's personal experiences and create visual interpretations. It's this internalization and processing that I recognized in this group of friends as well as many others to created our artistic Family. As in any family, the group contains mentors, students, parents, elders, and many more who function as extended resources for belonging.
I hope the viewer will take in and experience the sense of joining in on these familial excursions. I hope you see how we have shared our inner experiences to create this Village. I hope you hear how we have shared our stories to create our sense of family. – Bobby Fouther/Curator
Featured artists are:
Bobby Fouther/Curator- Mixed Media
Mufu Ahmet- Sculptures & Quilts
Blaque Butterfly- Spoken Word
Ruth Gourdine- Paintings
Eldon Jones III- Paintings
Chris McMurry- Paintings & Photographs
Saan Patterson- Paintings
Alice Price- Paintings
Jamaali Roberts- Collage
Hobbs Waters- Paintings
Gallery Hours:
Monday - Friday: 9:00am - 9:30pm
Saturday & Sunday: 9:00am - 5:00pm
A portion of all sales supports arts education at MAC
Multnomah Arts Center Gallery has approximately 200 linear feet with beautiful white display walls and "floating" walls for versatile art displays. As an educational instrument for our community, the MAC Gallery has been open since 1982 and has had over 300 shows. The artists who show here are residents of Oregon or Washington if they live in the immediate vicinity of Portland. We have 12 shows throughout the year with an artist reception coinciding with First Friday in Multnomah Village.
The MAC Gallery reflects the artistic dynamism of the Portland area with exhibits that emphasize the following:
Artists not neccessarily represented by a gallery or with an art degree

A diverse spectrum of media, from Fibers to Metal Arts and beyond

Diversified subject matter, from controversial themes to the simply pleasing

The working process of art through repetition of a single artist or group

Trends in the artistic community Artwork related to current events
Though the main purpose of the Multnomah Arts Center Gallery is educational, we hope to have the shows stimulate thought and/or emotion and create some sort of reaction in the viewers who go through it.
Multnomah Arts Center's mission is to provide high quality instruction and participation in the performing and visual arts to all interested persons, regardless of age, race, religion, ethnic origin, financial means, or level of ability. The MAC Gallery reflects this mission by paying the artist a larger commission than traditional galleries. Artists are accepted to show their work based upon a variety of criteria including artistic excellence, content, craftsmanship, professionalism, marketability, and educational value.
If you are interested in purchasing an artwork on display which is for sale, please inquire at the front office. A portion of all sales supports arts education at MAC. Read about the gallery's 2013 renovation in the Portland Tribune.