"Billions and Billions: New Work by Jonathan Barcan," monoprints

Exhibit: January 3 – February 4, 2020
Reception: Friday, January 3, 7-9pm
"Billions and Billions: New Work by Jonathan Barcan," an exhibit of monoprints by Jonathan Barcan, will be on view at the Multnomah Arts Center beginning January 3. This body of work is inspired by a lecture by contemporary philosopher Alan Watts, titled, "The Wiggly World." Watts describes the connection between human consciousness and the Big Bang, and discusses the challenge that society has to integrate 'nature' with 'progress.' An opening reception will be held in the gallery on Friday, January 3, 7-9pm. The show ends February 4 at 5pm.
Jonathan Barcan is a Portland based mixed media artist and printmaker who exhibits nationally and internationally. Noteworthy exhibitions include the Florence Biennial, Florence, Italy and the Today Museum Printmaking Center, Beijing, China. Residencies include the Central Academy of Fine Art, Beijing and Druckwerk Print Studios in Basel, Switzerland. He is active in the local arts community as a participant, educator, and volunteer. Barcan has taught a number of art classes and workshops at universities and arts institutions. Using the intaglio process to create "Billions and Billions," he employed a variety of printmaking techniques, including drypoint, line etching, and aquatint methods. The completed works utilize a multiple plate printing process wherein each image is made up of ten to seventy different etchings, run through the press together on a single sheet of paper. As he explains, "Each resulting piece has a stacked and quilted quality, referencing compiled information and presenting many parts as a whole. I find that arranging larger compositions from a collection of smaller pieces allows for a creative improvisation which helps to push even further how the idea of 'drawing' can be incorporated into today's printmaking practice." Based upon Watts' theories, he combines imagery ranging from the figurative to the abstract. Diagrammatic drawings sit alongside anatomical illustrations, textural elements, and references to medical scans. The prints, like Watts' theories, explore the progression of humanity in relationship to the evolution of the universe. Barcan further states, "It is as if without conscience, in the same way that a rock knows nothing of the hillside that it slides down or a molecule knows nothing of the biological current that it travels, our collective culture moves with a forward momentum that exists without memory."
"Ancestral Connections"
Group Mixed Media Show Celebrating Portland's African Diaspora
Exhibit: October 4 – 29, 2019
Reception: Friday, October 4, 7-9pm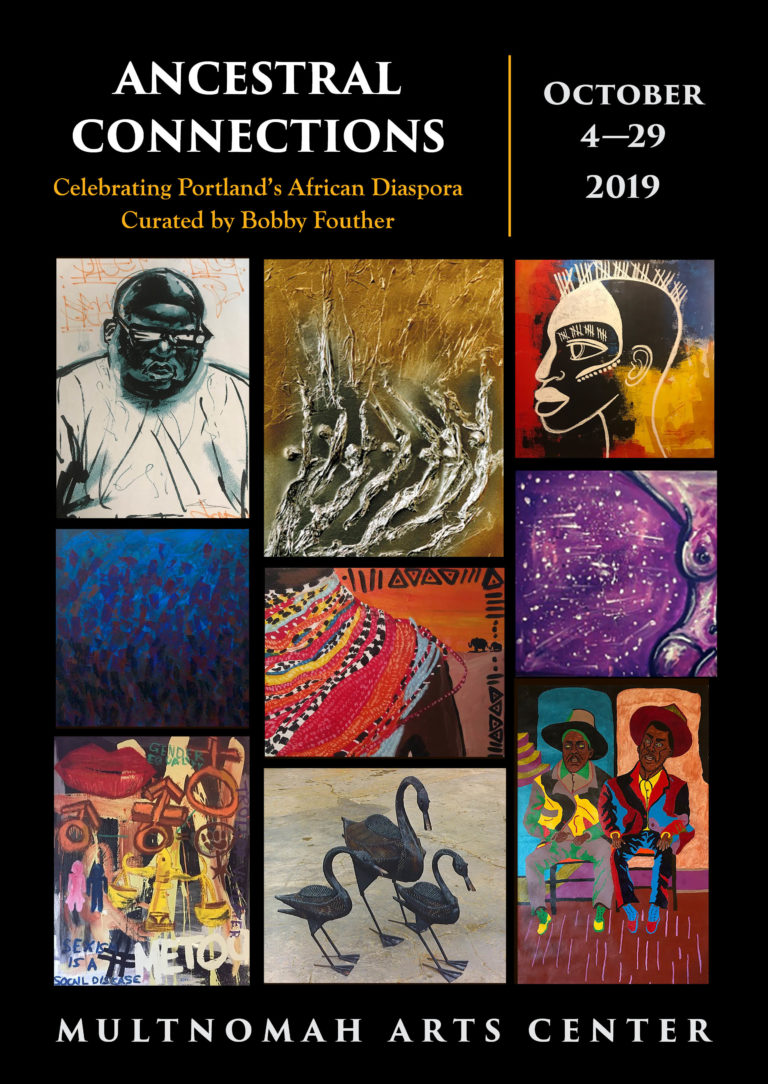 Curator's Statement:
"When I first thought about creating this exhibit, I wanted to show a breath of artwork from the diaspora. As I turned it to my artistic family, I began to realize that we functioned much like a Village. And so I chose to treat each member as an artistic force for the whole. Through this lens I was able to cross genders, ages, styles, aesthetics, and content. In the essence, this has created the Village voice that you will experience in viewing and hearing Ancestral Connections.
While the artists in this exhibit were born and raised in different locations, different households, on different continents, you will see a theme of he need to take one's personal experiences and create visual interpretations. It's this internalization and processing that I recognized in this group of friends as well as many others to create our artistic Family. As in any family, the group contains mentors, students, parents, elders, and many more who function as extended resources for belonging.
I hope the viewer will take in and experience the sense of joining in on these familiar excursions. I hope you see how we have shared our inner experiences to create this Village. I hope you hear how we have shared our stories to create our sense of family."
– Bobby Fouther / Curator
Featured artists are:
Bobby Fouther/Curator – Mixed Media
Mufu Ahmed – Sculptures & Quilts
Blaque Butterfly – Spoken Word
Ruth Gourdine – Paintings
Eldon Jones III – Paintings
Chris McMury – Paintings & Photographs
Saan Patterson – Paintings
Alice Price – Paintings
Jamaali Roberts – Collage
Hobbs Waters – Paintings
Pacific Northwest Sculptors
"Unmatched Pairs," a group show of individual and collaborative sculpture
Exhibit: September 6 – October 1, 2019
Reception: Friday, September 6, 7:00-9:00pm
Artists Talk: Saturday, September 7, 11:00am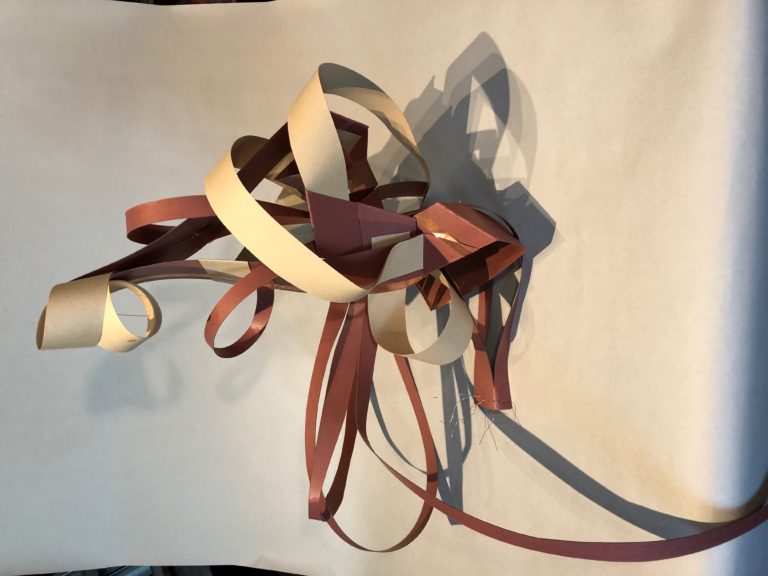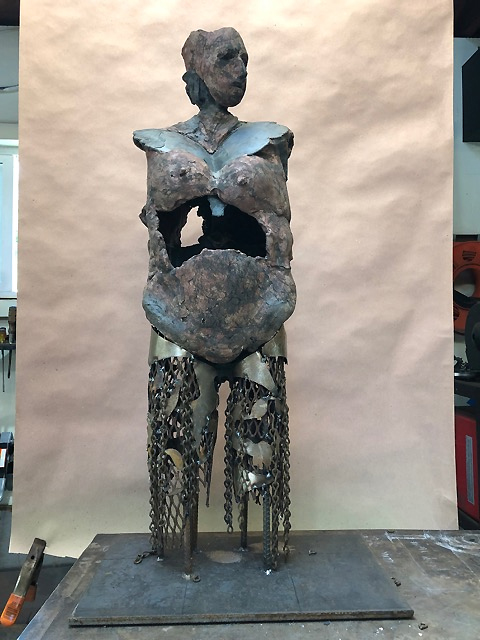 Original Press Release:
"Unmatched Pairs," an exhibit of individual and collaborative sculpture by Pacific Northwest Sculptors will be on view at the Multnomah Arts Center beginning September 6. Each artist exhibits one individual piece plus a collaborative piece created with the sculptor they have agreed to partner with.  An opening reception will be held in the gallery on Friday September 6, 7-9pm. An artists talk will occur Saturday, September 7, 11am. The show ends October 1 at 5pm.
The Pacific Northwest Sculptors collaborative pairs are: Andy Kennedy/Dave Gonzo; Michelle Collier/Laurie Vale; Sue Quast/Bob Shepps; Andy Kennedy/Julian Voss-Andreae; Shelly Durica-Laiche/Chayo Wilson; Piper Wood/Katie Sallos; Rocky Jaeger/Joe Cartino; Joe Cartino/Jonas Hartly; Sandy Visse/Linley Schetky; George Heath/Patrick Gracewood; Chas Martin/Craig Dorety. For the artists, the process had its own reward as they pushed themselves and each other into new perspectives. The show intends to motivate the viewer to seek collaboration with another artist. As curator Chas Martin explains, "Artists usually work in isolation. For this show, sculptors paired up to create collaborative pieces. Most individuals specialized in different media. Integrating concept and media was a risk for everyone. The results offer viewers a unique perspective on the creative process and demonstrate the power of collaboration."
Julie Forbes & Kendra Hurteau
"World of Evolving Art: Artwork made with discarded items," sculptures by Julie Forbes and paintings by Kendra Hurteau
Exhibit: August 2 – September 3, 2019
Reception: Friday, August 2, 7:00-9:00pm
Original Press Release:

"World of Evolving Art: Artwork made with discarded items," an exhibit of sculptures by Julie Forbes and paintings by Kendra Hurteau, will be on view at the Multnomah Arts Center beginning August 2. The artwork reflects the artists' unique art experience in which they recycle to create their art.  An opening reception will be held in the gallery on Friday August 2, 7-9pm. The show ends September 3 at 5pm.
Julie Forbes is a Portland artist who, in her daily perambulations as a walker, encounters trash which she incorporates into her sculptures. The result is torn-down, built-up redemption for future lost artifacts.  As she explains, "I champion the art of reclamation, an ethos born out of the crushing need to re-purpose and re-create.  My art both celebrates and decries the detritus of our late-capitalist culture." Art from her 3-D series, "Electronic Viscera," reveals the inner workings of our enslaving, labor-saving devices so that viewers can make the connection between art, technology and sustainability.
In her paintings, Kendra Hurteau likewise recycles to create art. She uses discarded plastics and metals to create the shapes in her "Ever Evolving" paintings. She states, "My art becomes a visual journal in which the whole world can see. The designs I create are inspired by our emotions and human experience. It's my intent to connect those visceral feelings to something visual whether through my abstracts or portraits." She wishes to engage the viewer, wanting them to relate to what they see, and to experience a reaction in connecting the dots in the privacy of their mind.
"Audubon to Autobon," hand colored etchings
Exhibit: July 5 – July 30, 2019
Reception: Friday, July 5, 7:00-9:00pm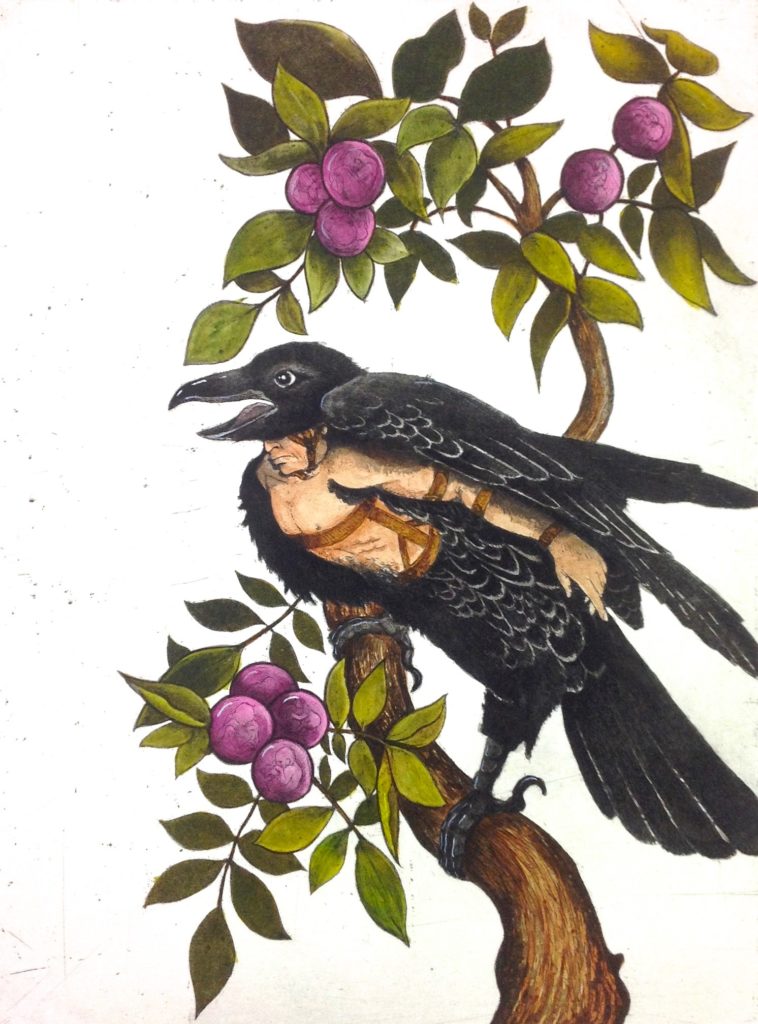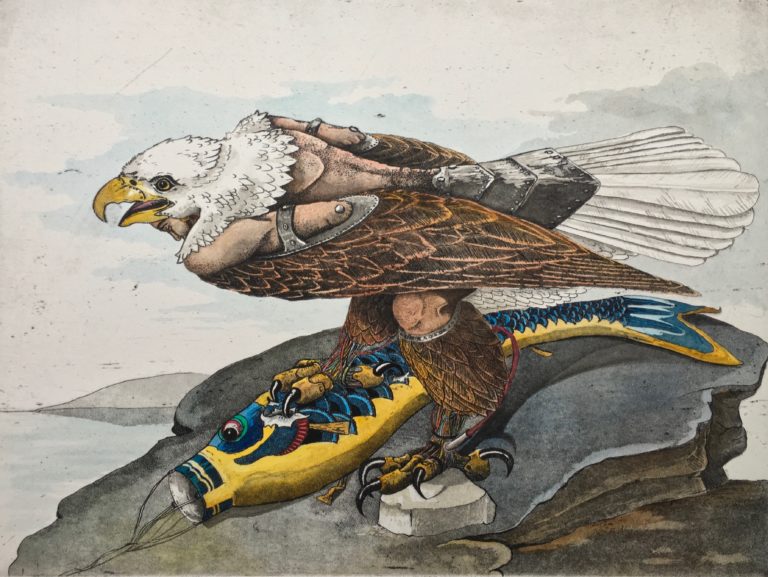 Original Press Release:

"Audubon to Autobon," a series of hand colored etchings by Gene Flores, will be on view at the Multnomah Arts Center beginning July 5. The exhibit portrays the modernization of the natural world and man's increasing manipulation of nature. An opening reception will be held on Friday, July 5, 7-9pm. The show runs through July 30 and closes at 5pm on that day.
Gene Flores was born and raised in El Paso, Texas. He received his BFA from the University of Texas El Paso and his MA and MFA in Printmaking from the University of Iowa. He arrived in Portland in 2001 and began teaching, painting, drawing, and printmaking at Portland Community College in 2005. Presently, Flores is the Dean of the Arts, Performance and Design division at the Portland Community College Sylvania Campus. He currently lives in La Center, WA.
In 2015, Flores started his series of colored etchings based upon John James Audubon's Birds of America prints. The copper plate etchings are individually hand colored, measuring 9×12 inches and are limited to a final edition of 10. As he explains, "The early images in the series are very similar in composition to the original Audubon images. As the series evolved, the imagery became more surreal with mechanical influences replacing much of the natural elements." The birds depicted focus on the three areas in which he has lived, the Southwest, Midwest, and the Northwest. As Audubon did not focus on the Southwest or the Northwest regions, Flores improvised on his selections in the series. Those that are not represented, such as the roadrunner, he replicated the composition seen in many of the Audubon prints for his series to remain consistent.
Juried Multimedia Group Show
In conjunction with PRIDE Month, Multnomah Arts Center is exhibiting a juried multimedia show called "PRIDE" showcasing art created by artists in the LGBTQIA+ Community of Portland and the area.
"I am what time, circumstance, history, have made me, certainly, but I am also, much more than that. So are we all." -James A. Baldwin
Exhibit: June 7 – July 2, 2019
Reception: Friday, June 7, 6:00-9:00pm
Images on Postcard: Top to Botton & Lefit to Right: Jason Berlin, David Castle, Richard Glenn, Joy Cartier, adam carona, Tayja Danger, Donna Sosnik, and R. Keaney Rathbun
Original Press Release:

June is PRIDE Month! Multnomah Arts Center is celebrating our greater LGBTQIA+ community with a juried show featuring LGBTQIA+ artists and their perspectives on aspects of their lives – coming out, confronting bias, surmounting challenges, finding love, and celebrating queerness.
Participating jurors were:
Bobby Fouther – Multimedia Artist, Performer, Director, Producer, Designer, and Educator
Anthony Hudson – Multidisciplinary Artist, Writer, Performer, Filmmaker, and Drag Clown (Carla Rossi)
Anna Vo – Writer, Speaker, Artist, Musician, and Educator in Inclusion and Racial Justice
29 Selected Artists: Alissa Altman, Jason Berlin, Sierra Lonepine Briano, adem cardona, Joy Cartier, David Castle, Kendrick Corp, Matthew Cottrell, Larry Cwik, Tayja Danger, Crhistina Ellis, Bobby Fouther, Tiana Garoogian, Mark David Gerson, Richard Glenn, Victoria Hammond, Craton Highways, Anthony Hudson (Carla Rossi), Julia Laxer, Robert Morrissey, Galen Perry, R. Keaney Rathbun, Zarod Rominski, Deborah Chava Singer, Donna Sosnik, Anna Suarez, Joni Renee Whitworth, Anna Vo, and Martin Wolfe
The show includes drawings, paintings, mixed media and collage, digital media, zines, jewelry, kiln-formed glass, photography, sculpture, poetry, prose and video from these 29 artist representing a wide range of perspectives and reflections on life in the LGBTQIA+ community.
Rachel Laura & Debra Carnes
"Inspirations from Nature: A Mother and Daughter Show," paintings by Rachel Laura and basketry by Debra Carnes
Exhibit: May 3 – June 4, 2019
Reception: Friday, May 3, 7:00-9:00pm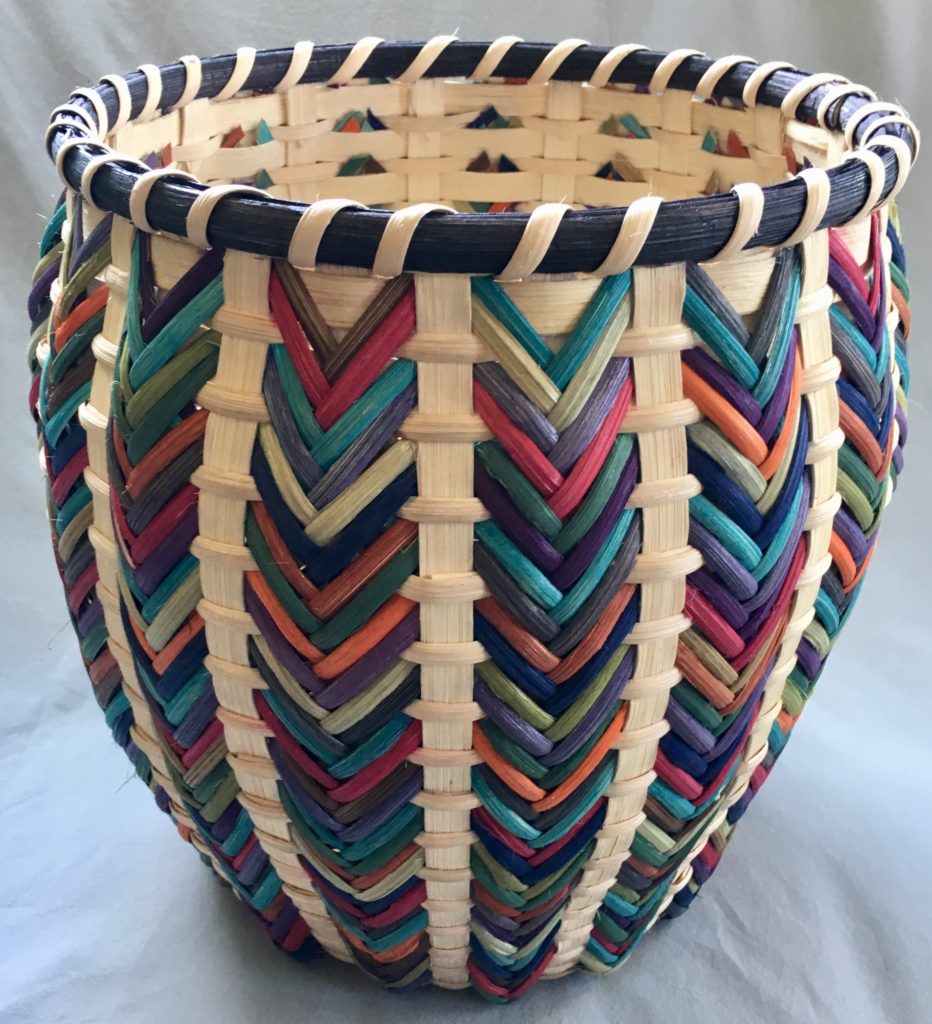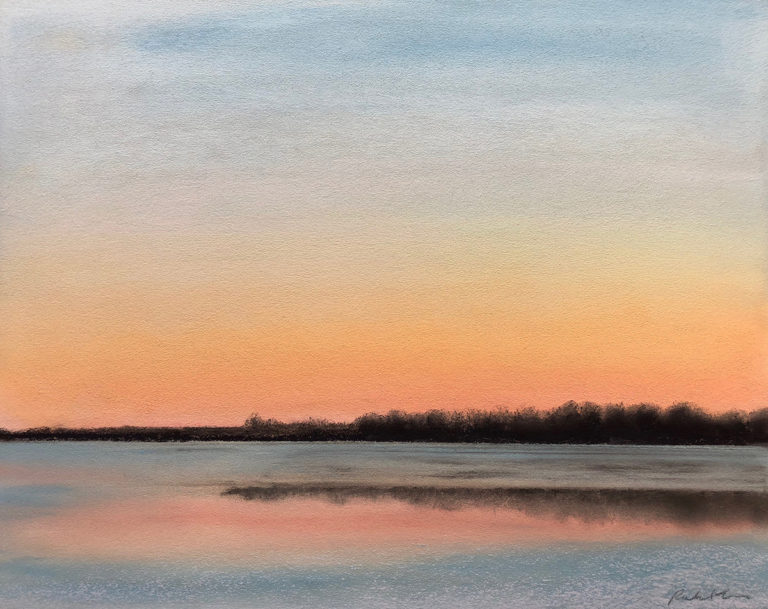 Original Press Release:
"Inspirations from Nature: A Mother and Daughter Show," an exhibit of paintings by Rachel Laura and basketry by Debra Carnes, will be on view at the Multnomah Arts Center beginning May 3. Both artists are inspired by nature. Their work is philosophically similar, yet different in the translation and in the mediums that they work in. They consider the show a great opportunity to work toward something together, to share their vision of this inspiring world with others and to celebrate Mother's Day in the month of May. An opening reception will be held in the gallery on Friday, May 3, 7-9pm. The show ends June 4 at 5pm.
Rachel Laura is a Portland artist who has been passionate about creating all her life when she realized that she is a landscape painter. She began working with spray paint and recently has taken up soft pastels. She enjoys switching between the non-traditional and traditional mediums. As Laura states, "I'm inspired by the beauty in the world around me and want my work to create a feeling of calm promoting a sense of inner peace and well-being." She works with the idea of "Yugen" which is a Japanese term that means an awareness of the universe triggering emotional responses too mysterious for words. She aims to inspire a moment of peaceful relaxation.
Debra Carnes lives in Tolovana Park and is Rachel's mother. She has always been fascinated with the history of basketry, one of the oldest art forms. She enjoys the challenge of construction and the endless possibilities of materials, methods and styles. She incorporates found objects and materials in new and interesting ways. As Carnes explains, "I often go "treasure hunting" for driftwood and beaver chewed sticks to incorporate into my creations and am always looking for inspiration from how nature constructs the world around me."
Soul Box Project and The Vision Quilt
"Art Revealing the Gunfire Epidemic," group show of paper boxes and fabric panels
Exhibit: April 5 – 30, 2019
Reception: Friday, April 5, 7:00-9:00pm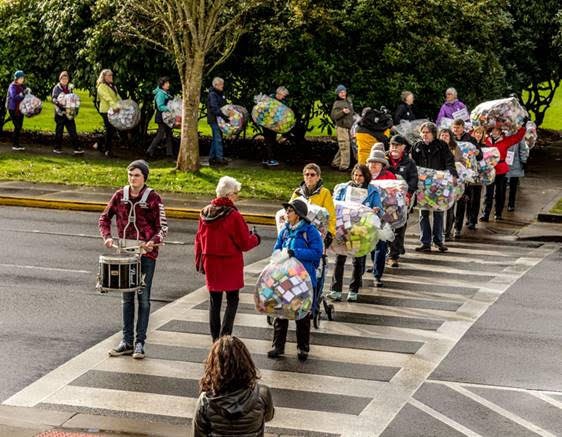 Original Press Release:
"Art Revealing the Gunfire Epidemic," an exhibit of hand-folded boxes by Soul Box Project and fabric panels by The Vision Quilt, will be on view at the Multnomah Arts Center Gallery beginning April 5. An opening reception will be held in the gallery on Friday, April 5, 7-9pm.  The exhibit may be seen through April 30 and closes at 5pm on that day.
The Soul Box Project is a national community art initiative raising awareness of the U.S. gunfire epidemic by counting and honoring victims, offering healing participation to those seeking solace, and providing dramatic visual support for all initiatives working for a safer, more civil society. The Soul Box Project is collecting one hand-folded paper Soul Box to represent every person killed or injured by gunfire in the U.S. since 2014. Tens of thousands of these boxes will be displayed together as massive art installations in public spaces around the country.
"The idea is that when people come face to face with thousands and thousands of Soul Boxes representing victims, they'll understand the enormity of the problem and take action," says the Project's founder, Portland artist Leslie Lee. "Those actions may span a wide range – gun safety, education, legislation, mental health. Together those actions will help cause a shift in our nation's culture." The Soul Box Project joins a tradition of powerful community and counting art projects; Lee cites the AIDS Memorial Quilt in the 1980s. "That project helped change the trajectory of another epidemic. It showed the numbers, but it also put names and faces on the victims. I know we can have the same impact."
More than 40,000 Soul Boxes have been collected since Lee started the Project in response to the Las Vegas massacre in October 2017. Since then they have added their visual impact to the March for Our Lives, Wear Orange PDX, Multnomah Days and a "Gallery of Souls" exhibit at Cerimon House in January.  On February 15 one hundred volunteers of all ages carried 36,000 Soul Boxes – representing the number of US gunfire deaths in 2018 – into the Oregon State Capitol where they were stacked in a pile too big for legislators and visitors to ignore. "The procession was led by the cadence of a snare drum and stretched down the block, across the street and into the Capitol Rotunda." says Lee. " I don't think anyone who saw that visceral accounting of gunfire victims and heard the reverberation of the drum under the Capitol dome is going to forget it any time soon."
The mass of Boxes is impactful but many of the Soul Boxes are also works of art. To appreciate them individually they need to be displayed in an artistic manner in a quiet place where there is time to absorb their collective meaning. The installation at the Multnomah Arts Center Gallery opening April 5 will do exactly that. Thousands of 3 x 3 inch message-bearing Boxes attached to mesh panels will fill the walls, but also cover freestanding pillars supporting netting filled with tumbles of Boxes. The result will be an immersive experience where visitors will be able to sit and fold their own Soul Boxes and talk with other community members. At regular published hours, volunteers will be on-site to help people fold, but instructions will always be available. The Boxes made by the community will be piled in the Gallery's hallway window with a sign updating the growing count of Soul Boxes, both at the Gallery and nationwide.
In addition, the Soul Box Project has invited another project to exhibit. Artist Cathy DeForest founded The Vision Quilt in Ashland, Oregon. Her project aligns perfectly with the Soul Box mission. The Quilt's 18 x 24 inch fabric panels, made by students and teachers expressing the theme "It is possible…[to end gun violence]," will add visual variety to the thousands of small origami Soul Boxes and introduce a valuable education program raising awareness of gun violence.
"Take Me to a Place I've Never been Before…," mixed media paintings
Exhibit: March 1 – April 2, 2019
Reception: Friday, March 1, 7:00-9:00pm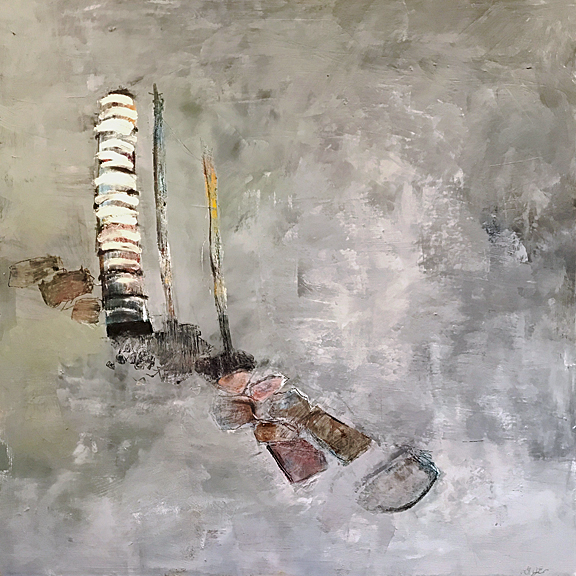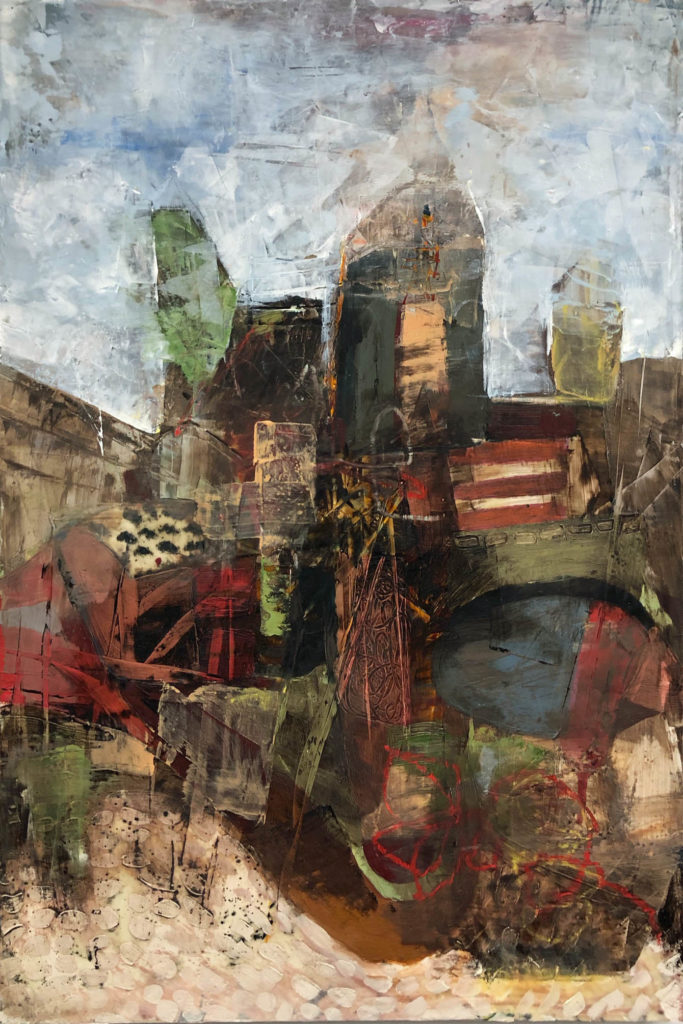 Original Press Release:
Portland resident Dianne Jean Erickson holds a Bachelor of Fine Arts in Studio Art from Southern Oregon University. In a time of chaos and upheaval, one longs for a quiet place and the images in "Take Me to a Place I've Never Been Before…" are travels through her conscious and unconscious mind with no perceived ideas, surprising her in the final stage. The paintings are an experience of finding what is important to her and so many others right now, a calm and quiet place. The paintings include, but are not limited to, encaustic, acrylic, oil and cold wax, and collage. As Dianne explains, "An experimenter, I use multiple media in my explorations; nothing is sacred. I enjoy finding the individual voice of each painting, making the decisions on which path to follow, working and reworking until the results bear witness to my search." For Dianne, painting is a challenge and a puzzle, a making of something that is visually unique during the process of building up and scraping away to reveal what lies beneath, the hidden history of what went before. 
Elisabeth Walden & Ahuva Zaslavsky
"Rhythm and Rest," ceramics & monotypes
Exhibit: February 1 – 26, 2019
Reception: Friday, February 1, 7:00-9:00pm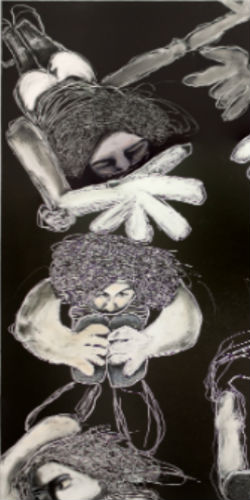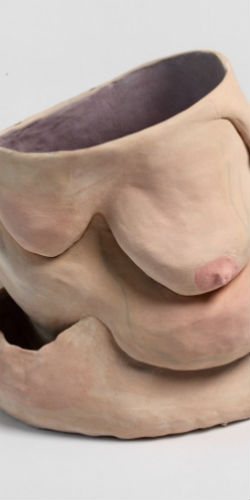 Original Press Release:
Ahuva S. Zaslavsky was born in Tel Aviv, Israel and moved to Portland in 2010. She graduated from the University of Negrev, Israel with a B.A. in behavioral sciences. Her art practice began in Portland when she attended PNCA and at the Crow's Shadow Institute of the Arts.  Coming from a diverse background, psychology, sociology and literary studies, she is constantly seeking to understand the relations between human behaviors, the individual motivation to be and create and the interaction with the outer world of society and culture. In Ahuva's current monotypes series, she explores "the theme of movement and rhythm of the individual in private and public spaces, their expression within the psychological and mental space, and the ways to express them in two dimensional forms."
Elisabeth Walden has a Studio Art Major BA from Yale University and MFA in printmaking from Rhode Island School of Design. Her art originates in her struggle as a queer fat woman to construct an embodied, loving representation of her body despite huge social pressure to hate herself because of it. The prints, paintings and ceramics she makes exist along a continuum between representation and abstraction, between the frank immediacy of the body print and the language of abstract painting, between her adoration of abundant flesh and the world's abhorrence for it. In "Rhythm and Rest," Elisabeth's focus is on hand building figurative ceramic planters and vases depicting fat bodies. These pieces are couched with tenderness and humor and are in tension with our cultural ideas about fat and otherwise marginalized bodies. As she explains, "I hope this work causes the viewer to reconsider their ideas about beauty and to build their empathy for fat people, though I don't mind when the response is simply to stop, look, smile or laugh, pinch or caress, or smell the plants contained in it."
"Visual Narrative: Prints that Tell a Story," group show
Exhibit: January 4 – 29, 2019
Reception: Friday, January 4, 7:00-9:00pm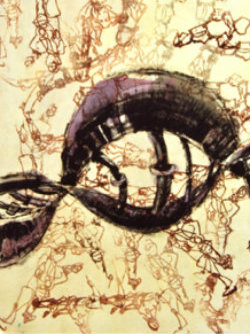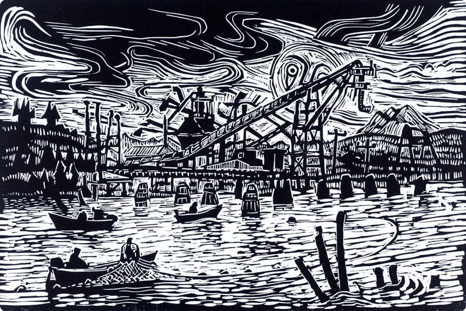 Original Press Release:
"Visual Narrative: Prints that Tell a Story" by Prints Arts Northwest (PAN) will be on display in the Multnomah Arts Center gallery beginning January 4. PAN is a nonprofit organization of over 60 printmakers from the greater Northwest area. They promote the fine art of printmaking and represent techniques such as etching, woodcuts, lithography and monoprints. An opening reception will be held in the gallery on Friday, January 4, 7-9pm. The exhibit may be seen through January 29 and closes at 5pm on that day.
At least 30 artists are participating in the exhibit. The prints chosen for this show ask questions. What is the story behind the print? What happened before the scene in the print? What might happen in the future?  How is this image related to a wider context? What makes a narrative in art? Can it be abstract or subtly implied? These narratives are open ended, leaving the viewer to provide their own interpretation of the arc of the story. The prints engage the viewer in the world of possibility and oftentimes mystery. The prints are invitations to enter the storyline, and, in turn, they activate an imaginative response. The prints included in this press release are "DNA" by Catherine Gill and "River Story" by Erik Sandgren.