Multnomah Arts Center Gallery
Now showing in the MAC Gallery…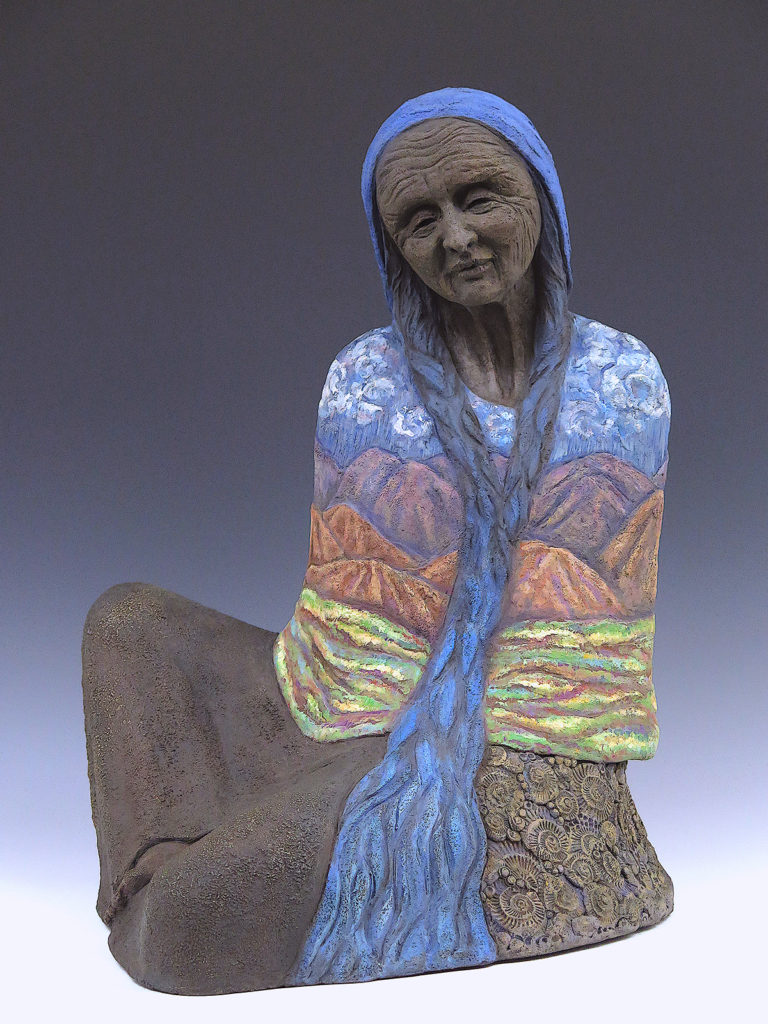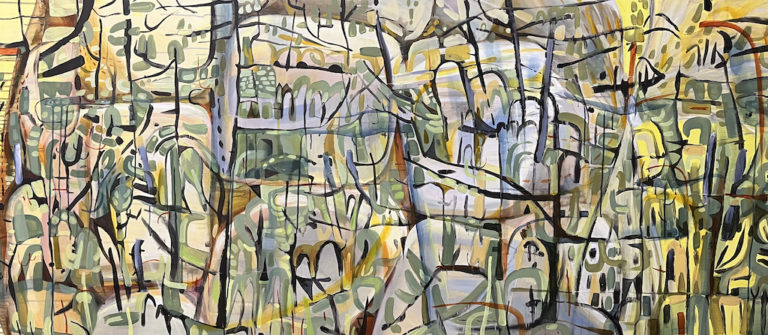 Confluence: a two-person exhibition by Karen Russo and Jason Greene
On display October 20 – November 25, 2023
"Confluence" explores the ways in which the land shapes each artist's process. Karen Russo is a sculptor from western Oregon who creates archetypal female figures that are informed by different geographical locations across the Pacific Northwest. As varied as the figures' surface textures and colors may appear, Russo says that they all "explore the tensions of the feminine experience: youth and aging, instability and equilibrium, love and grief." Jason Greene's recent work explores the beauty of the woods near his home in the Columbia River Gorge. His paintings are an attempt to "translate and connect to the arboreal experience." He also creates simple autonomous drawing devices that produce line drawings which he then hand colors to create subtle, intricate compositions. To these artists, "Nature is not simply subject matter but a complex interactive force."
There will be an opening reception on Saturday, October 21 from 1-3 p.m. with an artist talk to follow.
2023-2024 GALLERY SCHEDULE
Jessica Poundstone – archival pigment prints
Leondra Brackett – watercolor paintings and book arts
Exploring the colors, shapes and abundance in nature.
May 5 – June 10, 2023
Tatyana Ostapenko – acrylic paintings
Celebrating the strength & resilience of the Ukrainian people.
June 15 – July 22, 2023
Community Group Exhibit, featuring sculptures by Nyasha Madamombe
"Black History IS History"
July 28 – September 2, 2023
MAC Instructors Exhibit – brilliance in a broad range of media
Celebrating the 50th anniversary of the Center.
September 9 – October 14, 2023
Karen Russo – stoneware sculpture
Jason Greene – acrylic paintings
Meditative, grounding, and spiritual in nature.
October 20 – November 25, 2023
Eleanor Klock – drawings, risograph prints, comics
Erick Leonardo Martinez – ceramic sculpture
Feeling your way through: growing up in a multicultural household, finding purpose, being human.
January 5 – February 10, 2024
Mariane Zenker – acrylic paintings on paper
Jenn Demonte – ceramic sculpture
A practice in seeing the effects of climate change, from altered ecosystems to forced global migration.
February 16 – March 23, 2024
Maren Salomon – cut paper & mixed media
Jingzi Zhao – photography
Moving work made during the COVID pandemic, creating a vantage point from which to look back and to feel our way forward.
March 29 – May 4, 2024
Lisa Brinkman – ecoprints
Hilary Pfeifer – sculpture made from reclaimed materials
Using what's at hand to create beauty.
May 10 – June 15, 2024
Community Group Exhibit
The theme for this exhibit will be chosen early in 2024. This annual group show is intended to create opportunities for intra and/or cross cultural connection and learning.
June 21 – July 27, 2024
Arielle Brackett – metalsmithing & mixed media
Britt Block – pastel paintings
An invitation to reverence & rescue – from bees to species facing extinction in the Tillamook Forest.
August 2 – September 7, 2024
Gwynn Goodner – oil paintings
A heart-full conversation about gun violence.
September 13 – October 19, 2024
Annual MAC Instructors Exhibit
Brilliance in a broad range of media.
October 25 – November 30, 2024
Studio Art Quilt Associates (SAQA) – a juried group exhibit
Biophilia – Threads of Wonder
January 12 – February 24, 2025
Gallery Hours:
Monday - Thursday: 9:00am - 9:30pm
Friday & Saturday: 9:00am - 5:00pm
Sunday: Closed
The Multnomah Arts Center (MAC) Gallery opened in 1982. It serves as an educational venue for the community and a supportive environment for artists to share their work. Artists who show here are residents of Oregon and southern Washington near Portland.
Exhibiting artists are selected by a group jury process each year. The resulting shows reflect the artistic dynamism of the area, with an emphasis on the following:
a wide spectrum of media is shown throughout the year
diverse subject matter is explored
unique perspectives are shared
multidisciplinary and intersectional approaches are appreciated
As a community-based gallery, we seek to grow our collective ability to create, connect and share beauty in its many forms. Towards that end, some of the current equity practices at the Multnomah Arts Center Gallery include:
We embrace and encourage artists with differences in age, color, ethnicity, race, language, national origin, religion, sexual orientation, family or marital status, gender identity, political affiliation, veteran status, physical and mental ability, and socio-economic status. 
We show work by artists based on the merit of their work. Artists who exhibit here may not be represented by commercial galleries, or some do not have formal arts training.
Exhibiting artists receive 65% of any sales they make. The remaining 35% is used by our nonprofit organization, The Multnomah Arts Center Association, to support equity and access to arts education through MAC programming.
Community artists who are BIPOC, LGBTQIA2S+, immigrant or refugee, and/or disabled are invited to be a part of the group jury each year. Jurors receive an honorarium for their work.
The jury helps to identify a theme for a community exhibit each year. This group show is juried through a separate call, and the selection of work is led by the members of the community being called to participate (i.e. the Latinx PDX exhibit of 2022, which was juried by members of that community).
The annual Call for Artists encourages the submission of work that expands opportunities for participation by gallery visitors. This might take the form of music by a local musician playing on loop in the gallery, 3D work that is meant to be touched, or a reading by a local poet that includes sign interpretation.
Barriers to participation are address by a) ensuring that there is no application fee when submitting work for jurying, b) providing transparency in how decisions are made and who is making them, c) offering access to adaptive supports as needed in the application process, and d) providing translation services when requested (see below). Additionally, we recognize that matting and framing artwork for display can present a significant financial burden to artists when their work requires it and welcome the opportunity to explore possible solutions with those artists.
Our selection committee for our May 2023 – February 2025 exhibit calendar was led by artists and curators Steph Littlebird and Daren Todd.
Daren Todd is a Portland, Oregon based muralist, illustrator and designer. He is also the owner of Art Larger Than Me, a gallery and creative studio serving clients from residential real estate to the commercial film industry. Daren's work currently focuses on abstract expressionism and graphic portraiture, and the juxtaposition of both styles into cohesive paintings and designs.
Steph Littlebird is an artist, curator, writer, and a member of Oregon's Grand Ronde Confederated Tribes. She received national recognition as curator of This IS Kalapuyan Land (2020), an exhibition at the Five Oaks Museum in Portland which was featured by ArtNews and PBS NewsHour. Other curatorial projects include Untold Parallels, Mata Art Gallery, L.A. (2020), which re-examined colonial histories of the so-called Philippines and Filipinx-American diaspora, and colonized people Indigenous to "North America." Most recently, Pʰot-Choch, an exhibition held at Anita, Astoria OR (2021) presented traditional and contemporary art of the original Chinook inhabitants of the North Coast. Her visual work engages issues related to contemporary Indigenous identities, marginalized histories, and responsible land stewardship. Littlebird earned her B.F.A. in Painting and Printmaking from the Pacific Northwest College of Art (PNCA) in Portland.